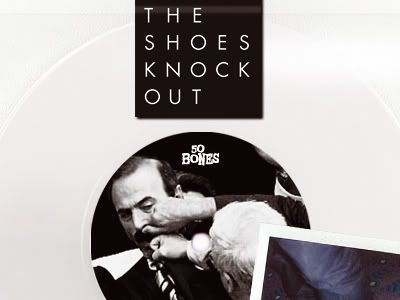 1 BONE
A/ The Shoes - 'Knock Out'
B/ The Shoes - 'Red Light'
**SOLD OUT**
THE SHOES
Paris, France
Myspace
Pure Groove
said:
"The song's an absolute er... knock out (go check!) and comes with a signed polaroid taken of someone's shoes. In the mix are CSS, Klaxons, Zinidane Zidane, and er... Si-Digital from Pure Groove (although no refunds will be accepted from the unluckly soul that gets him rather than the French former World Footballer Of The Year... Limited to 300 and on white wax too! Soleful!"
Electorash
said:
"As a general concept, me and shoes don't really agree. When your choice of footwear is circumscribed by the twin necessities of orthotics and a 6 cm raise on the left foot, you tend to stick with one pair for as long as is humanly possible. But when
The Shoes
are French and sound like sunset electro at a party where only summertime exists, well then I start to give a shit."
The Guardian
said:
"How prosaic can band names get nowadays? Will we soon be getting down to the funky sounds of the Chair and nodding our heads to the Bath? The Shoes must be forgiven, however, on account of their absolutely berserk attempt at melding nosebleed electro with, well, boxing, to form a record that laudably recreates the experience of having the crap kicked out of you. No more than a punishing rhythm, shouted boxing-related buzzwords and Eye Of The Tiger samples, it's more Cage Rage than Queensberry rules, and mixed martial arts is where it be at in the 0-8."
The Shoes 'Knock out' live in Glasgow